The Coffee Guy's Rants: Remakes, Get Off My Lawn
Cover your ears, for the famed Coffee Guy from Viridian City has a rant to share!
BY GUM, I SAY THERE'S TOO MANY OF THESE REMAKES THESE DAYS! I CAN'T UNDERSTAND WHY, BUT IT SEEMS WE'RE TO REVISIT THIS HOENN PLACE AGAIN! AND I FOR ONE COULD NOT BE MORE OUTRAGED ABOUT THIS! WHY ARE YOU ALL FLOCKING TO BUY THESE NEW GAMES IS BEYOND ME. WHERE IS THE APPEAL? DID EVERYONE'S GAMES BREAK AGAIN? AND WHY CAN'T WE GO CHECK OUT A NEW PLACE INSTEAD?
LET'S GO THROUGH THESE REASONS PEOPLE THROW ABOUT FOR WHY THEY'RE SUPPOSEDLY SUCH A GREAT THING. BETTER GRAPHICS, HUH? SO YOU CAN SEE THESE POKEMON IN THREE D'S, WHATEVER THAT MEANS. BACK IN MY DAY, WE GOT BY JUST FINE WITH FLAT POKEMON, EACH WITH THREE OR FOUR COLOURS AT MOST! WHO NEEDS MORE THAN THAT? AND WHAT'S WRONG WITH THE OLD GRAPHICS? I'M SURE YOU FOLKS ALL MANAGED TO BEAT THE GAME JUST FINE BACK THEN WITHOUT WORRYING ABOUT WHAT THINGS LOOKED LIKE. DOES IT LOOK LIKE A PERSON? TALK TO IT! DOES IT LOOK LIKE A POKEMON? BEAT IT UP OR CATCH IT! COULDN'T BE SIMPLER.

SEE, LOOK, IT'S A BIRD, THROW POKEBALLS AT IT. EASY.
SOME OF YOU SAY THAT YOU CAN USE WIFI IN ORDER TO PLAY WITH PEOPLE AROUND THE WORLD NOW, AND THAT WOULD BE NICE TO DO IN A REMAKE. A WIFI? WELL, I JUST DON'T KNOW WHAT THAT IS. I CAN ONLY GUESS IT'S SOME NEW POKEMON THAT'S TOO FRIENDLY FOR ITS OWN GOOD. BUT WHY CAN'T YOU JUST USE A GOOD OLD LINK CABLE AND USE THAT TO BATTLE AND TRADE WITH OTHER PEOPLE? AND IF YOU WANT TO DO THAT AROUND THE WORLD, THEN GO CATCH A PLANE! AND YOU GUYS ALSO TALK ABOUT A TOUCH SCREEN AND SO FORTH. CAN'T YOU PRESS GOOD OLD BUTTONS ANY MORE? OR DO YOU THINK YOU'RE TOO GOOD FOR THEM NOW?
REPLAYABILITY? WELL, YOU CAN STILL PLAY THE ORIGINAL HOENN GAMES! WHY, YOU CAN EVEN PLAY THE FIRST KANTO GAMES AND GET TO SEE WONDERFUL OLD ME BACK IN VIRIDIAN! I EVEN TEACH YOU HOW TO CATCH POKEMON IF YOU'VE FORGOTTEN, AND YOU CAN DO THAT AS LONG AS YOU LIKE! MAYBE LONGER THAN I LIKE, BUT THAT'S BESIDES THE POINT. THESE RUBIES AND SAPPHIRES GAMES ARE FINE, AND YOU DON'T NEED TO WORRY ABOUT A LACK OF TIME TO ENJOY A LITTLE POKEMON BATTLING. SOME OF YOU GUYS CLAIM THAT YOUR GAME BOY BROKE AND YOU ONLY HAVE ALL THESE THREE D'S. THAT'S TOO BAD FOR YOU, YOU SHOULD HAVE TAKEN BETTER CARE OF IT! YOUNG KIDS THESE DAYS…
AND THEN THERE'S THE SUPPOSED NEW EVOLUTIONS, CALLED MEGA EVOLUTIONS. YOU PEOPLE SAY THIS MAKES THE REMAKES MORE EXCITING. THIS SOUNDS STUPID. WHAT'S SO SPECIAL ABOUT A TEMPORARY EVOLUTION? SOUNDS PRETTY LAME TO ME! AND THEY JUST ADD MORE COLOURS AND HAIR THINGS, WHICH IS COMPLETELY UNNECESSARY!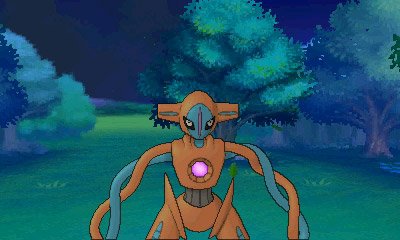 LOOK AT IT! IT HAS SOME RED PAPER STUCK TO ITS HEAD, AND BLUE FEATHERS. SINCE WHEN DID THEY HAVE BLUE FEATHERS!? IT WAS SIMPLER BACK IN MY DAY, WHEN POKEMON WERE POLITE ENOUGH TO EVOLVE AT THE END OF BATTLES, AND STAY THAT WAY! BESIDES, YOU DIDN'T NEED EXTRA EVOLUTIONS TO BEAT OTHERS UP, I'M SURE! AND NOW YOU CLAIM THERE'S GOING TO BE EVEN MORE POKEMON TO CATCH! HOW MANY DARN THINGS DO YOU WANT TO CRAM IN THOSE BOXES ANYHOW? THOSE POOR PROFESSORS WILL NEVER GET THE POKEDEX FINISHED AT THIS RATE! 'I'M SORRY, PROFESSOR, BUT 386 POKEMON JUST ISN'T ENOUGH FOR ME ANYMORE!'
NOW, I'M SURE YOU'LL POINT OUT THAT MY GLORIOUS KANTO REGION GOT FEATURED IN THE TWO PREVIOUS REMAKES, AND THAT I'M JUST BITTER THAT IT'S NOT FEATURING NOW. BUT I ASSURE YOU THAT'S NOT THE CASE! ON THE CONTRARY, I WAS FURIOUS WHEN I HAD TO BE IN A GAME AGAIN! ALL THOSE NEW TRAINERS BUGGING ME FOR HELP, AND I WAS EXPECTED TO GIVE AWAY ALL THESE 'TEACHY TVS' AND TELL PEOPLE HOW TO PLAY THE DARN GAME FROM IT! DO YOU KNOW HOW MUCH THEY WEIGH!? I COULDN'T BE HAPPIER WITH THE PEACE AND QUIET I HAVE NOW! I CAN FINALLY LIE IN THE MIDDLE OF THE STREET WITHOUT PEOPLE GETTING UPSET AT ME.
BUT IT'S NOT FAIR ON THE HOENN PEOPLE, IS IT? THINK OF ALL THOSE GYM LEADERS, OR THOSE BUG CATCHERS. DO YOU THINK THEY WANT TO LOSE A FEW MILLION MORE TIMES NOW, ONLY TO GET PROMPTLY FORGOTTEN ABOUT BY YOU PLAYERS UNLESS THEY TALK ABOUT SHORTS OR RATTATA A LOT? AND THE HIGHWAY ROBBERY YOU DO ON THE POOR BUG CATCHERS. THAT'S THEIR POCKET MONEY YOU'RE TAKING AGAIN! INSTEAD, WHY NOT BUG SOME OTHER REGION FOR A CHANGE? IT'S THEIR TURN AFTER ALL. THE ORIGINAL FOUR REGIONS COULD USE A BREAK TO CLEAN UP AFTER YOU.
BESIDES, THESE REMAKES SOUND SILLY WITH THEIR NAMES. OMEGA RUBY AND ALPHA SAPPHIRE – WHAT IS OMEGA AND ALPHA ABOUT THEM? STILL, IT MAY BE BETTER THAN SAYING THAT FIRE IS RED. THEY SHOULD GO BACK TO JUST HAVING COLOURS. NICE AND SIMPLE.
Written by bobandbill
Edited by An-chan, Bay Alexison, Hoenn and Shinx
Tags: BBS, Coffee guy, Coffee man, FRLG, ORAS, Pokemon, rant, remakes, Viridian City, wynaut, Wynaut? Magazine